Saints Row The Third (CD Key)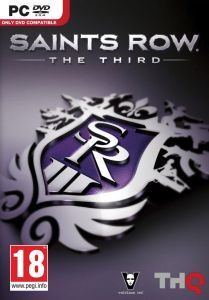 Kód produktu: 10058
Typ: Akčné
Výrobca: THQ
Platforma: PC - Steam
Dostupnosť: do 24 hodín

Popis položky:
V pokračovaní úspešnej gangsterskej akcie od tímu Volition si od začiatku budete užívať všetky výhody života vysoko postaveného zločinca. Zápletka ale hre nechýba, o moc v novom meste sa totiž váš gang stretne s konkurentmi z organizácie The Syndicate. Devízou hry sú zaujímavé scenáre, kde nie je núdza o drsnú akciu!
Cena s DPH:
9.99 € / 260 Kč
Táto hra je po nastavení v službe Steam v českej lokalizácií (dabing alebo titulky)
Roky potom, čo obsadili Stilwater, sa Third Street Saints vyvinuli z pouličného gangu na známu značku, s teniskami Saints, energetickými nápojmi Saints a Johnny Gat Bobble-head bábikami k dispozícii v každom obchode. Saints sú kráľmi Stilwater, ale ich štatút celebrity neprešiel bez povšimnutia. Syndicate, legendárne kriminálne bratstvo s členmi po celom svete, obrátilo svoje oko na Saints a vyžaduje úctu.
Odmietajúc pokľaknúť pred Syndicate, presuniete boj do Steelportu, kedysi hrdej metropoly degradovanej na mesto hriechu pod kontrolou Syndicate-u. Privolajte satelitom navádzané nálety na mexický gang a bráňte sa proti vycvičenej vojenskej sile iba pomocou erotickej hračky v najbizarnejšom hernom scenári aký ste kedy videli, podnecujúc vojnu, ktorá zasiahne celý Steelport.
Saints Row: The Third Vám umožňuje ovládať Saints na vrchole ich moci a žiť svoj život tak, aby to stálo za to. Steelport je teraz zrelý na ovládnutie a je len na Vás, aby ste si mesto privlastnili. Podľa svojho výberu oblečte svoju skupinu do noblesného gangsterského vybavenia, alebo chlpatých kostýmov a urobte rozhodnutia na život a smrť, ktoré zmenia Steelport a Saints, a to navždy. Toto je teraz Vaše mesto. Toto sú teraz Vaše pravidlá.
Hra sa aktivuje prostredníctvom platformy Steam (http//www.steampowered.com)