Sleeping Dogs Definitive Edition (CD Key)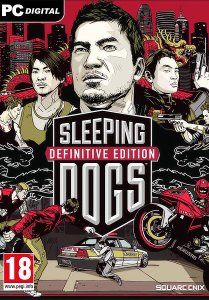 Kód produktu: 10096
Typ: Akčné
Výrobca: Square Enix
Platforma: PC - Steam
Dostupnosť: do 24 hodín

Popis položky:
Hra Sleeping Dogs Definitive Edition obsahuje všetok v minulosti dostupný obsah k prevzatiu a celý rad nových zdokonalení.
Cena s DPH:
11.99 € / 313 Kč
Hra Sleeping Dogs Definitive Edition obsahuje všetkých 24 vydaných DLC vrátane DLC Year of the Snake a horrorového Nightmare in North Point.
Hlavným hrdinom príbehu je policajt v utajení, Wej Šen, ktorý má za úlohu preniknúť do štruktúry Triád v oblasti Hong Kongu. Lenže čím hlbšie sa dostáva, tým viac začína pochybovať o správnosti svojich motívov... Hra vsádza na silný príbeh v štýle hongkongských akčných filmov typu Lepší zajtra
V hre Sleeping Dogs sa vžijete do úlohy tajného policajta Wei Shena, povereného infiltrovať jednu z najhrôzostrašnejších zločineckých organizácií na svete, hongkongské Triády. Počas preskúmavania rušného a preplneného ostrova Hong Kong s jeho neónmi osvetlenými postrannými uličkami a rozľahlými pouličnými trhmi sa odvíja neuveriteľný príbeh vernosti a zrady a Wei začína pochybovať o svojich vlastných motívoch, pričom je vťahovaný hlbšie do podsvetia, než si dokáže predstaviť.
Ostrov Hong Kong je plný akcie, kde sa každý roh ulice, každý kút trhu, každý prístavný dok, alebo mestský mrakodrap môže stať dejiskom intenzívnej prestrelky, adrenalínovej pouličnej naháňačky a intenzívneho, brutálneho boja na blízko. Sleeping Dogs Vám umožňuje predvádzať rozsiahlu sadu pohybov bojových umení vďaka jednému z najintuitívnejších a najnápaditejších bojových systémov. Predvádzajte kosti drviace kopy a kombá, výpady a do filmu sa sa hodiace ničenie herného prostredia využívajúc mnoho reálnych predmetov od kotúčových píl po telefónne búdky, od pecí po dvere z chladničky.
Hra sa aktivuje prostredníctvom platformy Steam (http//www.steampowered.com)