Mass Effect Trilogy (DIGITAL)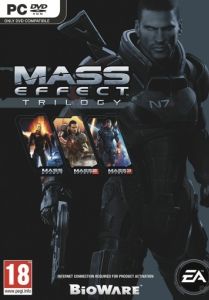 Kód produktu: 10132
Typ: RPG
Výrobca: Bioware
Platforma: PC - Origin
Dostupnosť: do 24 hodín

Popis položky:
Balenie obsahuje všetky tri diely epickej sci-fi ságy Mass Effect.
Cena s DPH:
14.99 € / 391 Kč
Trilógia obsahuje navyše aj tento stiahnuteľný obsah a bonusy:
pre Mass Effect: DLC - Bring Down the Sky a Pinnacle Station
pre Mass Effect 2: Cerberus Network s DLC Zaeed – The Price of Revenge, The Firewalker Pack, Cerberus Assault Gear, Arc Projector heavy weapon a misia Normandy Crash site
pre Mass Effect 3: Online Pass
Mass Effect
Sci-fi 3D RPG, v ktorom preberáte úlohu jedného z ochrancov galaktického mieru, ktorý musí spoločne so svojimi kolegami brániť celú galaxiu pred jednotkami bývalého legendárneho agenta, keď sa ten obrátil na stranu nepriateľov. Ako zistíte ďalšie a ďalšie informácie, začnete si uvedomovať, že naozajstnou hrozbou je niečo/niekto iný a je väčším tŕňom v oku ako by si ktokoľvek dokázal pripustiť.
Mass Effect 2 CZ
Temnejšie a drsnejšie pokračovanie atmosférického akčného sci-fi RPG, v ktorom sa opäť posuniete k odhaleniu božskej entity zvanej Reapers. Hlavný dej sa však zameriava na organizáciu Cerebus a jej tajomného vodcu, v ktorej ľudia miznú a už sa nikdy nevracajú. Práve na túto samovražednú misiu bude vyslaný veliteľ Shepard.
Mass Effect 3 CZ
Zem je v plameňoch. Spoza hraníc známeho vesmíru zaútočil dosiaľ neznámy druh hrôzostrašných strojov a započal s deštrukciou ľudskej rasy.V úlohe veliteľa Sheparda, príslušníka námornej pechoty Aliancie, ste jedinou nádejou na záchranu ľudstva. Musíte zjednotiť civilizáciu galaxie a vyraziť na poslednú misiu k odvráteniu zničenia Zeme.
Na stiahnutie a aktivovanie tejto hry je potrebný Origin "EA Download Manager" (http://www.origin.com/download)