The Sims 4 Bundle Pack 1 (DIGITAL)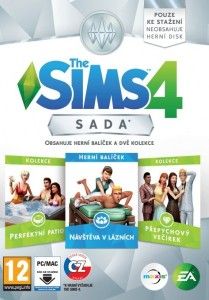 Kód produktu: 20022
Typ: Rodinné
Výrobca: Electronics Arts
Platforma: PC - Origin
Dostupnosť: do 24 hodín

Popis položky:
Sada do hry Sims 4, ktorá obsahuje jeden balíček a dve kolekcie.
Cena s DPH:
23.89 € / 623 Kč
K aktivácii produktuov je potrebné vlastniť základnú hru Sims 4.
***
The Sims 4: Návštěva v lázních
Simíkovia sa môžu vydať do kúpeľov a dopriať si príjemnú masáž, alebo zapracovať na svojej vnútornej pohode cvičením jogy. Po oddychovom pobyte v bahennom kúpeli môžu sadnúť do sauny a zbaviť sa nahromadeného stresu. Vďaka pestrej ponuke nových predmetov a dekorácií máte možnosť premeniť domovy Simíkov na oázy ticha, pohodlia a mieru.
The Sims 4: Perfektní patio
Doplňte vonkajšie priestory obydlí svojich Simíkov o vírivky! Tiež je tu nový gril na prípravu lahodného pohostenia a k týmto príležitostiam Simíkovia ocenia i nové ležérne oblečenie.
The Sims 4: Přepychový večírek
Usporiadajte párty s využitím množstva extravagantných dekorácií a pre hosťov pripravte banketové stoly s dobrotami a dokonca i čokoládovú fontánu! Šatníky Simíkov doplňte o žiarivé róby a elegantné formálne obleky
Na stiahnutie a aktivovanie tejto hry je potrebný Origin "EA Download Manager" (http://www.origin.com/download)