Mortal Kombat Komplete Edition (DIGITAL)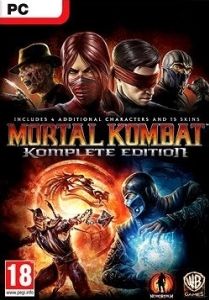 Kód produktu: 11159
Typ: Akčné
Výrobca: Warner Brothers
Platforma: PC - Steam
Dostupnosť: do 24 hodín

Popis položky:
Legenda sa vracia v Komplete edíci, ktorá obsahuje všetko čo doposaš pre Mortal Kombat vyšlo.
Cena s DPH:
7.99 € / 208 Kč
Tato edícia naviac obsahuje 4 nové postavy Skarlet, Kenshiho, Raina a Freddyho Kruegera + 15 klasických skínov a tri klasické fatality, teda dorazenie protivníka – pre Scorpiona, Sub-Zera a Reptilea.
Príbeh nového dielu Mortal Kombat s poradovým číslom 9 sa odohráva po udalostiach z Mortal Kombat: Armageddon, ale zároveň v prvých troch predošlých hrách. Hra sa navyše vracia ku koreňom pôvodných prvých dielov i spracovaním, kde ide o tzv. 2.5D vyobrazenie, teda zo strany a hlavne je zameraný na hardcore hráčov, ktorí už s touto značkou majú skúsenosti.
Vydanie Mortal Kombatu v roku 2011 bolo triumfálnom návratom k pôvodnému dospelému poňatie hry, ktorý ponúkol efektné fatality a bolestivo vyzerajúci útoky využívajúce röntgenového presvietenie.Tento zatiaľ posledný diel série sa vrátil späť do 2D bojovej roviny a predstavil množstvo nových herných prvkov, naprTag Team, Challenge Tower a prepracovaný príbehový režim.Hráči si môžu vybrať z rozsiahlej zostavy dobre známych bojovníkov a stretnúť sa so svojimi priateľmi v tradičných zápasoch jeden proti jednému, alebo sa postaviť niekoľkých protihráčom v inovatívnom online móde King of the Hill.
Hra sa aktivuje prostredníctvom platformy Steam (http//www.steampowered.com)