Call of Duty: Black Ops 2 (CD Key)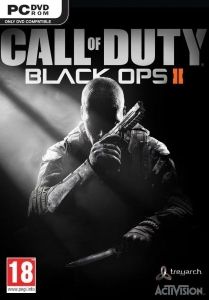 Kód produktu: 11108
Typ: Akčné / FPS
Výrobca: Activision
Platforma: PC - Steam
Dostupnosť: do 24 hodín

Popis položky:
Pokračovanie CoD série s podtitulom Black Ops a celkovo už deviatym dielom legendárnej akčnej série Call of Duty. Hra je zasadená do budúcnosti, konkrétne do roku 2025 a v mnohom sa odlišuje od toho, na čo sme v sérii Call of duty zvyknutí.
Cena s DPH:
13.99 € / 365 Kč
Call of Duty: Black Ops 2 je nasledovníkom veľmi úspešného a oceňovaného titulu Call of Duty: Black Ops. So zameraním na stealth a tajné misiie sľubuje Black Ops 2 ešte viac akcie s neustále sa zvyšujúcou úrovňou pre ešte lepší Call of Duty zážitok. Titul sľubuje pestrú hernú náplň, čo sa týka režimov i jednotlivých činností. Každú chvíľu budete robiť niečo iné: riadiť vozidlá, lietať vo vzduchu, alebo strieľať zo stacionárneho guľometu. A práve letecké pasáže by nemali byť len na efekt, ale mali by poskytovať plnohodnotný zážitok vo voľnom priestore.
Režim pre jedného hráča obsahuje rozvetvujúcu sa kampaň, ktorá je založená na rozhodnutiach, ktoré urobíte, čo Vám dáva viac príležitostí znovu odohrať svoje misie s rôznymi rozhodnutiami pre rôzne výsledky. Multiplayerové režimy su rovnaké, ale vylepšené.
Hra sa aktivuje prostredníctvom platformy Steam (http//www.steampowered.com)