Starcraft 2: Heart of the Swarm (CD Key)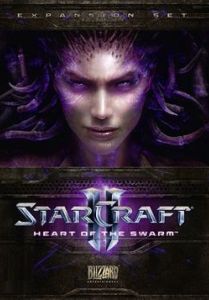 Kód produktu: 10223
Typ: Stratégia
Výrobca: Blizzard
Platforma: PC - Battle.net
Dostupnosť: do 24 hodín

Popis položky:
Prvý datadisk k jednej z najlepších stratégii všetkých čias Starcraft 2: Wings of Liberty je tu! Tento krát si zahráte za rasu Zerg, v ktorej nebudú chýbať staré známe jednotky a hrdinovia. Tešiť sa môžete ale aj na nových hrdinov a nové jednotky s unikátnimy vlastnosťami a na vynikajúcu a obsiahlu kampaň za rasu Zerg, v hlavnej úlohe so Sarah Kerrigan!!
Cena s DPH:
16.99 € / 443 Kč
Blizzard naznačili plány pristúpiť k prvému datadisku hry StarCraft II z iného uhla, tento bude v kampani konkrétne zameraný na Sarah Kerriganovú a légie Zergov. Očakáva sa, že Heart of the Swarm bude obsahovať súčasti zaváňajúce RPG štýlom a aj nové Zergské jednotky.
StarCraft 2: Heart of the Swarm nám bude pokračovať presne tam, kde StarCraft skončil, Sarah Kerrigan zbavená trónu Zergov, no konečne v ľudskej podobe bude prahnúť po pomste. Obeťou má byť Arctrus Mengsk, ktorého neustále preklína vzhľadom na jeho svetovládu. Aj keď sa zdá, že to je len kadejaká stratégia, kto dohral StarCraft, určite si povie že univerzum skrýva až príliš veľa možností príbehu, aby sa to dalo vtesnať do strategickej hry. Autori ale datadisk zaplnia filmovými sekvenciami, zvratmi a akciou a pri počte 20 misií bude hrateľná doba "datadisku" porovnateľná s plnou hrou.
Pre aktiváciu a stiahnutie hry je nutné použiť stránky Battle.net (http://www.battle.net)