Magicka Collection (CD Key)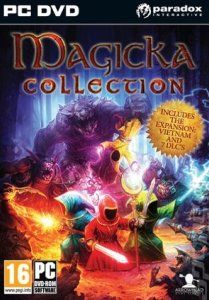 Kód produktu: 10118
Typ: RPG / Akčné
Výrobca: Paradox Interactive
Platforma: PC - Steam
Dostupnosť: do 24 hodín

Popis položky:
Magicka je akčná adventúra zasadená do fantazy sveta Midgard postaveného na nórskej mytológii. Hrať budete za čarodeja, príslušníka svätého rádu, a to buďto sólo alebo kooperatívne až s tromi ďalšími priateľmi. Autori sľubujú inovatívny systém bojových kúziel, ktoré majú mať zničujúci efekt na okolité prostredie.&amp
Cena s DPH:
13.99 € / 365 Kč
Magicka Collection obsahuje:
Magicka
Magicka Vietnam
Magicka Wizard Survival Kit
Magicka Caverns and Marshlands
Magicka Nippon
Magicka Final Frontier
Magicka Frozen Lake Magicka Watch Tower
Magicka Robe Bundle
Príbeh začína uprostred veľkej krízy a hlavné mesto Hávindr je v obkľúčení. Preto vás, čarodejníka Rádu mágie, čaká úloha. Musíte preto opustiť domovský hrad plný vynikajúcich hotdogov a labužníckych syrov a ponáhľať na pomoc samotnému kráľovi. Na vašich cestách budete bojovať naprieč 13 levelov plných nepriateľov. Budete využívať na pomoc magické kúzla, voľne kombinované z 8 elementov. Ako budete postupovať ďalej, naučíte sa krehké umenie anihilácia všetkého, čo sa vám postaví do cesty a to s mocnou silou starovekej mágie. Aby toho nebolo málo, môžete svoje schopnosti otestovať v rôznych challenge módoch a vyzvať svojich priateľov (alebo nepriateľov) v móde hráč vs hráč.
Ale dosť rozprávanie! Čas obliecť róby!
Hra sa aktivuje prostredníctvom platformy Steam (http//www.steampowered.com)