Medal of Honor 2010 (DIGITAL)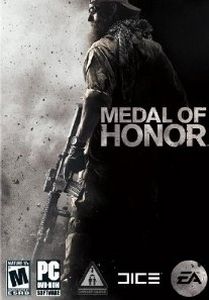 Kód produktu: 10045
Typ: Akčné
Výrobca: Electronic Arts
Platforma: PC - Origin
Dostupnosť: do 24 hodín

Popis položky:
Medal of Honor sa vracia do prvej línie, tentokrát tej modernej. Po prvýkrát v priebehu svojej desaťročnej histórie opúšťa Medal of Honor scénu 2. svetovej vojny a privádza hráča do vojnou sužovaného Afghanistanu.
Cena s DPH:
2.99 € / 78 Kč
Po prvýkrát počas svojej desaťročnej histórie opustí hra Medal of Honor scénu 2. svetovej vojny a privedie Vás do vojnového konfliktom sužovaného Afganistanu. S dejom, zasadeným do nehostinného a brutálneho prostredia, Medal of Honor odhalí poslanie elitného amerického vojaka, v americkej armáde označovaného ako Tier 1 Operator. Ide o úplnú elitu US Army, ktorá pod priamym velením National Command Authority vykonáva strategické úlohy najvyššej priority. Na pozadí súčasných vojenských operácií hra detailne ukáže jeho vôľu, spôsob premýšľania a nekompromisnú profesionalitu.
Hra Medal of Honor je postavená na kampani pre jedného hráča, ktorá je tou najlepšou vo svojej triede. Vývojári už od rannej fázy vývoja úzko spolupracujú so skutočným špecialistom z americkej Komunity špeciálnych operácií, aby navodili čo najautentickejší vojnový zážitok. V záujme zaistenia čo najvyššej kvality kampane pre jedného hráča, zverilo EA vývoj hry pre viac hráčov nezávislému tímu DICE. Tieto dva tímy sa tak spájajú s cieľom vyprodukovať Medal of Honor, ktorý bude novým začiatkom série pre následujúcu generáciu.
Na stiahnutie a aktivovanie tejto hry je potrebný Origin "EA Download Manager" (http://www.origin.com/download)