Europa Universalis 4 Digital Extreme Edition (CD Key)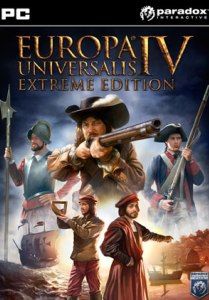 Kód produktu: 10248
Typ: Stratégia
Výrobca: Paradox Interactive
Platforma: PC - Steam
Dostupnosť: do 24 hodín

Popis položky:
Cenami ovenčená séria Europa Universalis, ktorá zmenila celý žáner strategických hier sa vracia so svojim štvrtým pokračovaním. Fanúšikovia tohto skvostu na poli skutočných stratégií sa môžu tešiť na bezkonkurenčnú flexibilnú hrateľnosť, nové možnosti pre manažment impéria a rovnaké oddanie sa historickým reáliám, ktor&amp
Cena s DPH:
13.99 € / 365 Kč
Digital Extreme Edition obsahuje:
- Star and Crescent - 50 nových moslimských tematické fotografií z akcií, taktiež niekoľko nových udalostí pre moslimské národy
- Horsemen of the Crescent Unit Pack - 12 unikátnych jazdných režimov pre národy ako Ottoman, Mamluk a Persian.
- Conquest of Constantinopole Music Pack - 3 skladby, ktoré obsahujú 10 minút novej hudby, ktoré zložil Andreas Waldetoft
***
Nový strategický diel z rodiny s menom Europa Universalis beží na vylepšenom engine z Crusader Kings II a ponúka toľko vylepšení a úprav oproti predošlým dielom. Okrem nápaditého obsahu na vás čakajú samozrejme historické udalosti, na ktoré sa budete môcť vrhnúť s flexibilne vybudovaným národom, budete mať totiž možnosť budovať vlastné vlády, upravovať si obchodnú politiku podľa ľubovoľnosti, rovnako ako štruktúru samotnej spoločnosti. Ruka v ruke s tým ide i oveľa prepracovanejší a delikátnejší systém diplomacie, v ktorej budú hrať úlohu okrem klasických techník tiež názory jednotlivých panovníkov.
Panovníci budú mať tiež nové špeciálne schopnosti. V hre bude nový obchodný systém a samozrejme nebude chýbať ani multiplayer s vylepšeným chatom, matchmakingom, možnosťou podpory vlastného servera. A ako už to pri takýchto hardcore PC hier býva, budete mať možnosť umodovať sa k smrti - upraviť pôjde takmer čokoľvek.
Hra sa aktivuje prostredníctvom platformy Steam (http//www.steampowered.com)