Dragon Age 2 (DIGITAL)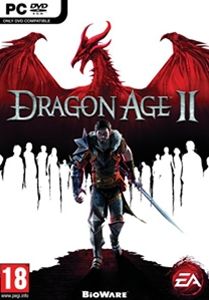 Kód produktu: 10102
Typ: RPG
Výrobca: Electronic Arts
Platforma: PC - Origin
Dostupnosť: do 24 hodín

Popis položky:
Pokračovanie kritikmi veľmi ceneného RPG Dragon Age: Pramene, Vás vtiahne do úlohy chudobného utečenca Hawkeho, ktorý si postupne vydobyje slávu a bohatstvo vo svete Dragon Age. Pred touto neľahkou úlohou ho ale čaká ešte dlhá cesta vydláždená krvou nepriateľov. Príbeh je ešte epickejší a je viac zviazaný so samotnou postavou Hawkea.
Cena s DPH:
8.99 € / 234 Kč
Kráľovstvo Ferelden bolo príliš tesné a malé nato aby mohlo určovať smer celému kontinentu Thedas a tak prišlo to čo sa dalo čakať už na konci prvého dielu. Pokoj nenastal práve naopak ľudia spomínajú na strašný masaker v pogrome v malej dedinke Lothering severne od Ostagaru. Bola zrovnaná zo zemou vojskom Nákazy a zachránilo sa vtedy len zopár šťastlivcov, a medzi nimi bol človek menom Hawke. A práve za Hawkea budete hrať v druhom diely Dragon age. Budete putovať krajinou spoznávať nových ľudí a s nimi putovať na ceste za slávou a hrdinstvom.
Vaše rozhodnutia za Hawka ovplyvňujú ako chod hry tak aj vašu partiu. Čo znamená že ak sa chováte arogantne tak vaša partia vás aj tak bude vnímať. Všetko je to na vás ako sa zachováte. Príbeh v druhom pokračovaní je spravený tak aby si ho každý pochopil po svojom. Spôsob, akým budete hru hrať, sa podpíše na osudoch celého sveta.
Na stiahnutie a aktivovanie tejto hry je potrebný Origin "EA Download Manager" (http://www.origin.com/download)