Medal of Honor Warfighter Limited Edition (CD Key)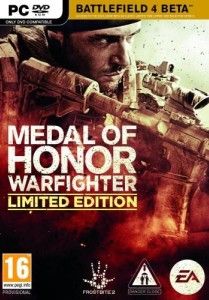 Kód produktu: 11107
Typ: Akčné / FPS
Výrobca: Electronic Arts
Platforma: PC - Origin
Dostupnosť: do 24 hodín

Popis položky:
Dej Medal of Honor Warfighter je osobným príbehom príslušníka amerických jednotiek Tier 1 s prezývkou Kazateľ (Preacher), ktorý sa po ukončení tajných misií v zahraničí vracia domov k rodine. Keď je však cez štátnu hranicu prevezená výbušnina s názvom PETN, Kazateľ je spolu so svojimi spolubojovníkmi znovu vyslaný do akcie ...<
Cena s DPH:
12.99 € / 339 Kč
Český preklad si do hry môžete stiahnuť TU
Limited Edition obsahuje prístup k postave ostreľovača jednotiek Tier 1 SEAL amerického námorníctva. Tento odomykateľný bonus pre multiplayer usporí hráčovi zhruba 40 hodín herného času, ktoré by k sprístupnení postavy v hre potreboval.

Hra nadväzuje na prvý titul série Medal of Honor z roku 2010. Nový diel opäť prináša misie inšpirované skutočnými bojovými operáciami. Či už ide o záchranu rukojemníkov na Filipínách, alebo elimináciu pirátskych útokov pri somálskom pobreží. Warfighter predvedie najmodernejšiu techniku boja proti súčasným formám terorizmu. Na tvorbe hry sa opäť podieľali príslušníci jednotiek Tier 1, vďaka čomu hra ponúka agresívny, drsný a autentický herný systém, v ktorom hráči ochutnajú denný chlieb najlepších a najdisciplinovanejších vojakov na svete.
Dej Medal of Honor Warfighter je osobným príbehom príslušníka amerických jednotiek Tier 1 s prezývkou Kazateľ (Preacher), ktorý sa po ukončení tajných misií v zahraničí vracia domov k rodine. Keď je však cez štátnu hranicu prevezená výbušnina s názvom PETN, Kazateľ je spolu so svojimi spolubojovníkmi znovu vyslaný do akcie s cieľom túto hrozbu eliminovať.
Na stiahnutie tejto hry je potrebný Origin "EA Download Manager" (http://www.origin.com/download)