Lord of the Rings: War in the North (CD Key)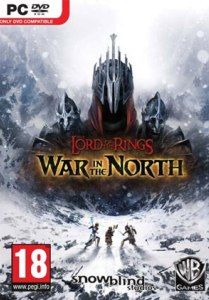 Kód produktu: 10108
Typ: RPG
Výrobca: Warners Brothers
Platforma: PC - Steam
Dostupnosť: do 24 hodín

Popis položky:
The Lord of the Rings: War in the North je epická akčná multiplayer RPG video hra založená na známych príbehoch od J.R.R. Tolkiena.
Cena s DPH:
7.99 € / 208 Kč
Veľa času uplynulo od vydania filmového Pána Prsteňov a tak nasledujúce akčné RPG nemá nasledovať film príbehovo, ale iba si zobrať niečo z jeho sveta. Ide o nové dobrodružstvo zasadené na sever, ktoré sa odohráva paralelne s románovou trilógiou. Na severe otvára jeden zo Sauronových príslušníkov Agandaru druhý front vojny o prsteň.
Za dobrodružstvom sa vydáva trojica hrdinov takmer v rovnakú chvíľu ako Legolas, Gimli, Frodo a ďalší. Ústredné trio tvorí hraničiar, trpasličí bojovník a elfia čarodejnica. Hru môžete hrať sami za sprievodu umelej inteligencie v telách spolubojovníkov, alebo ich nahradiť živými hráčmi. A veľkým lákadlom hry je tiež prepracovaný súbojový systém založený na reťazených úderoch do komb.


Hra sa aktivuje prostredníctvom platformy Steam (http//www.steampowered.com)