Settlers 7: Paths to a Kingdom GOLD edícia (CD Key)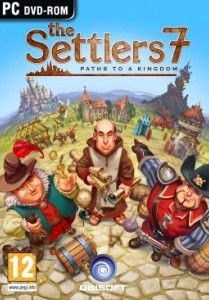 Kód produktu: 10218
Typ: Stratégia
Výrobca: Ubisoft
Platforma: PC - Uplay
Dostupnosť: do 24 hodín

Popis položky:
Hra si berie tie najlepšie prvky a princípy z klasických The Settlers a navyše prináša množstvo inovácií, vďaka ktorým hráči budú môcť prežiť úplne nový zážitok. Prostredie hry je zasadené do doby rannej renesancie v Európe, čo vizuálnemu štýlu len pridáva na malebnosti a kráse.
Cena s DPH:
9.99 € / 260 Kč
Prepracované herné mechanizmy, rozsiahly stavebný a produkčný systém, umožní ľahko rozširovať svoje kráľovstvo osadou po osade, oblasť po oblasti. Hráč sa môže rozhodnúť, akým spôsobom bude kontrolovať územie a to tromi základnými prístupmi: Vojenský (budovanie silných armád za cieľom porazenia nepriateľa) Vedecký (dôraz na inteligenciu v kláštoroch, prístup k technológiám) Obchodný (zaberanie obchodných trás a upevňovanie ekonomiky)
Podľa spôsobu hry sa udeľujú špeciálne víťazné body, čo prináša viac súťaživosti a napätia. Nechýba ani multiplayer so všetkými známymi módmi ako campaign, skirmish, multiplayer challenges.
Produkt sa sa sťahuje pomocou downloaderu vydaného priamo spoločnosťou Ubisoft.